Karma Series Book 2
What would you do if you woke up one morning and your life was inexplicably changed in the worst way imaginable?
Banished by his enemy into a hellish alternate dimension, Luke Decker fights to understand why his world has suddenly changed, and why is he on trial for the murder of his beloved Nina?  What he doesn't know is she's not dead.  Nina watches him vanish into thin air and is completely bereft, struggling to find out how and why he disappeared.  Using all of her psychic talents and traversing the astral realm, she frantically searches for him to no avail.  She owns a secret item which holds the key to his salvation, but will she figure it out before he's condemned to live the rest of his life in a realm of darkness?
 A remarkable tale of vengeance, time travel, and dark magic . . .
Read an excerpt from the first chapter here
From BookViral ...
"For readers looking for an angsty, hot, emotional yet gripping story then the Dark Karma series might will prove the perfect read. Increasingly, writers of paranormal fantasy are mixing it up and Simmons has pitched her series somewhere between fantasy and a high octane romance thriller. But what could easily have descended into a routine run-around caper is given genuine depth by Simmons' fascination with alternative realities and her eagerness to explore them. Written with fluid prose and a discerning eye for detail, the plot is clever and well executed with Simmons comfortably wielding the devices of intrigue and suspense, without resorting to the trite clichés that have become increasingly commonplace in less imaginative novels. However, as in previous releases, it's in characterization that she truly distinguishes herself. All her main characters are well observed and authentically captured in dialogue that always feels real; close your eyes and you can imagine Luke and Nina standing before you! Both imbued with a real sense of purpose as a maelstrom of darkness looms ever larger above them."
From the Paranormal Romance Guild (Excerpt)...
Nina uses every bit of power she possesses to find Luke and bring him home but she eventually finds herself a prisoner in the same alternate reality. It is while they are there they meet DK a guard whose job is to keep the prisoners alive for the next round of torture. It is DK who reveals secrets that no one could ever have guessed including me.
This book has it all, astral travel, demons, torture and time travel. I will not reveal anything about DK or who he is, nor will I reveal what happens to Luke and Nina what I will do is recommend reading the books in order. I look forward to the next book in the series and who it will be about I hope it is about Noah a friend of Luke's and a former Navy Seal who deserves to find love.  Read the full five-star review here
From Literary Titan ...
Four Stars - "Dark Karma is a fascinating tale of vengeance and dark magic by author, Laura Simmons. Laura Simmons does a beautiful job in creating an epic tale that creates an array of whirlwind emotions. Simmons' writing is flawless and thought-provoking, great for any avid reader of suspense and mystery novels. This is a book that provides everything you would expect from a novel that surrounds itself in magic, tension, mystery and revenge."  Read the rest of the review here.
Dark Karma is a Literary Titan Silver Book Award Winner for November 2018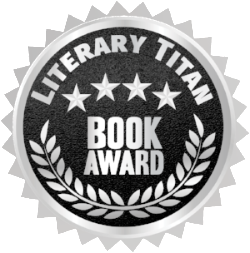 More Reviews Below
From Amazon...
Dark Magic and Murder -- Having read the prequel, Tough Karma, I was really looking forward to this one. This one also didn't disappoint. In Dark Karma, the main character Nina has been hurt in a previous relationship, and she and her love interest Luke are basically friends with benefits. As they realize they're falling in love with each other, Nina meets Elliot. She has a past with him which she doesn't remember. He's jealous of Luke, but he also wants to steal a magical item Nina possesses. When Luke gets banished to a hell-like dimension, everything changes for him and Nina, especially since he's accused of murdering her – the woman he loves. As Nina uses her physic abilities to search for him, things really heat up as good tries to overcome evil. The story-line and theme were exciting, and the characters were well done. Thoroughly enjoyable read! -- J. C.
A wonderful story -- An interesting read to say the least. It has plenty of surprises and twists that will keep you turning the pages just to see what happens next. Nina and Luke fall in love with each other, much to the dismay of Elliott, who is pretending to be a friend but only wants to steal Nina's magic rock that grants her whatever she desires. Things become complicated when the trio end up in hell, living out previous lives. No spoilers so just read it and enjoy! I highly recommend this one! -- Joshua Griffith
Romance, deception, fantasy...this one has it all! -- This book has a little bit of everything! The romance between Nina and Luke gives you a warm feeling, the deception from Elliot makes you want the good guys to win. The astral travel/clairvoyant abilities in to many characters is well collaborated. This was a very engaging story with very likable characters, for the most part. There are always bad guys to create the friction of a story, and these bad ones are truly evil. Looking forward to the next book in the series! -- Sheila P.