From BookViral ...
"For readers looking for an angsty, hot, emotional yet gripping story then the Dark Karma series might will prove the perfect read. Increasingly, writers of paranormal fantasy are mixing it up and Simmons has pitched her series somewhere between fantasy and a high octane romance thriller. But what could easily have descended into a routine run-around caper is given genuine depth by Simmons' fascination with alternative realities and her eagerness to explore them. Written with fluid prose and a discerning eye for detail, the plot is clever and well executed with Simmons comfortably wielding the devices of intrigue and suspense, without resorting to the trite clichés that have become increasingly commonplace in less imaginative novels. However, as in previous releases, it's in characterization that she truly distinguishes herself. All her main characters are well observed and authentically captured in dialogue that always feels real; close your eyes and you can imagine Luke and Nina standing before you! Both imbued with a real sense of purpose as a maelstrom of darkness looms ever larger above them."
From Literary Titan ...
Four Stars - "Dark Karma is a fascinating tale of vengeance and dark magic by author, Laura Simmons. Laura Simmons does a beautiful job in creating an epic tale that creates an array of whirlwind emotions. Simmons' writing is flawless and thought-provoking, great for any avid reader of suspense and mystery novels. This is a book that provides everything you would expect from a novel that surrounds itself in magic, tension, mystery and revenge."  Read the rest of the review here.
Dark Karma is a Literary Titan Silver Book Award Winner for November 2018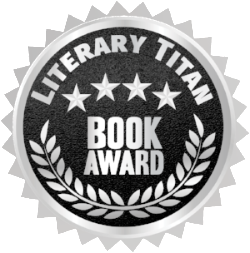 What would you do if you woke up one morning and your life was inexplicably changed in the worst way imaginable?
Banished by his enemy into a hellish alternate dimension, Luke Decker fights to understand why his world has suddenly changed, and why is he on trial for the murder of his beloved Nina?  What he doesn't know is she's not dead.  Nina watches him vanish into thin air and is completely bereft, struggling to find out how and why he disappeared.  Using all of her psychic talents and traversing the astral realm, she frantically searches for him to no avail.  She owns a secret item which holds the key to his salvation, but will she figure it out before he's condemned to live the rest of his life in a realm of darkness?
 A remarkable tale of vengeance, time travel, and dark magic . . .
Read an excerpt from the first chapter here